Go Karting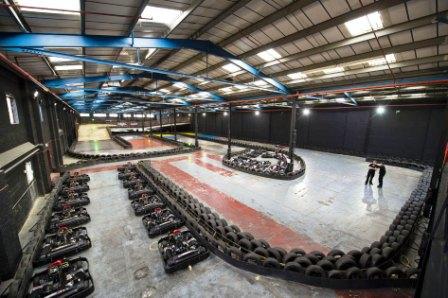 Go Karting is the ideal competitive activity as up to 12 people can be racing on this indoor track at a time.
This is an outstanding track with twisting flyover and sweeping double apex which allows for adrenaline pumping overtaking manoeuvres and the perfect opportunity to duel with your fellow karters. There's even an impressive Monaco style tunnel.
You'll get exclusive use of the track with a couple of chances to prove yourself on the practice and qualifying laps as you build up to the final high octane Grid start race.
Premier Exclusive Grandprix session
Each group goes out onto the track for a quick 5 minutes practice followed by 10 minutes of qualifying races to see who the fastest qualifiers are. The group is then split into two groups. The slowest 8 qualifiers enter a 15 minute race with the winner taking the 3rd place trophy. Then the fastest 8 qualifiers race for 15 minutes, with those finishing in the top 2 places taking the 1st and 2nd place trophies.
12 Go karts on track at a time
200cc petrol engines
All equipment provided
30 minutes of racing action
Electronically timed lap print outs
Trophies for the top 3 Drivers
Exclusive use of the track